Download the maps from Google Maps in an SD Memory:  SD cards can expand the maximum amount of storage that your portable device has. Most smartphones and tablets these days aren't usually equipped with incredibly large storages. Every file you download, no matter how small, adds up quickly, and before you know it, your smartphone is full. And when you download maps from Google Maps, the effect worsens.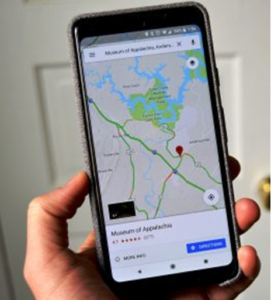 You can save space and headache by inserting an SD card and using it as the default storage device. This can be easily done through the settings of your mobile.
How to download Google Maps to SD card
Before you start downloading Google Maps to an SD card, you need to make sure that your device has successfully installed and recognized it. This can be done in the settings of your phone.
The procedure is the next:
Start by opening the Settings of your mobile. The app icon is a gear.
In your Settings app, locate and select Storage.
Now, on the right side, you will see some user data. This gives you an overview of the amount of storage available and used. More importantly, if your SD card is installed correctly, you should see the SD card listed in the user data. Note: In case you don't see your SD card listed, please remove and insert it again.
Now that you know for sure that your SD card is installed correctly and that there is plenty of space available, you can start downloading maps from Google Maps. Launch the Google Maps Application.
Look in the upper left corner. Do you see the menu icon "hamburger"? They are three horizontal dashes. Tap the menu icon. This will open a panel on the left side.
Scroll down the left column until you reach Offline Maps, which you will then select.
Now, before you start downloading maps, you need to change your storage preferences. Tap the settings icon in the upper right corner. That's Offline Maps Settings.
Scroll down for Storage Preferences and select it. By default, it is configured as "Device". That is not the option. When the popup appears, choose SD card and tap Save.
And that's all there is to it. From now on, when you download a map from Google Maps, it will save it to your SD card. This is because it changes their storage preferences to your SD card, which is where Google Maps is downloaded. Think of it as the default "Downloads" folder on a computer.
Conclusion
In conclusion, changing the download location of your Google Maps is quite easy. However, it should be noted that in case you change the SD card or remove it entirely, Google Maps will default to your storage, even if you insert another SD card. Then you will have to do these steps again.